When it comes to choosing the right table for your space the options can seem endless and daunting. What shape do I choose? Which style would best suit my space? How large should my table be?
Sometimes the questions override the answers and you are left paralyzed trying to decide.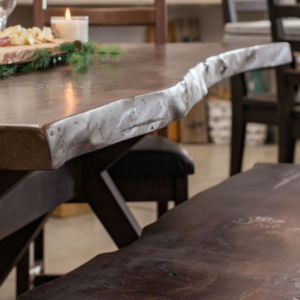 Some of the decisions you need to make come down to personal preference and some come down to logistics. Either way, a dining table isn't a small investment and you want to be confident in your decision.
Here are some tips to help you find a table that not only suits your needs, but your style as well.
WHAT IS THE FUNCTION OF YOUR DINING TABLE?
How is your new table going to be used? Is it going to function as a dining table only, an eat-in space, a place for the kids to finish their homework? Is it in a high traffic area like a breakfast nook or is it set aside in another space like a formal dining room?
Before you start the hunt for your new dining set, ask yourself these questions to be sure you land on the right product for your home.
WHAT IS THE FREQUENCY OF USE?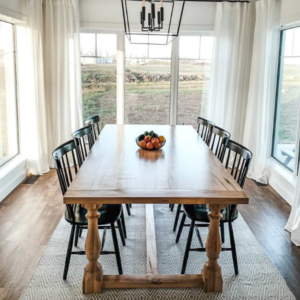 Do you have a formal dining room that is only used on holidays? Is your table used for a large gathering at Christmas and then only again next Thanksgiving?
If you find you are only using your table a few times a year when you host your family, perhaps a table with hidden leaves is a great solution, or a gorgeous farmhouse table to warm up your space.
WHAT IS THE STYLE OF YOUR SPACE?
Is your vibe classic or modern, farmhouse or rustic? 
Determining this will help you decide which table will add the most to your space. If you find your style is more modern with clean lines and natural stone, then a simple legged table like our Lancaster or metal leg base table would be a great addition. If you find you gravitate towards the modern farmhouse style, our Ainsworth, Hornsby or Fairmont are all great options. Our Timber Frame table is perfect for a more rustic style home and our Jasper table is a beautiful, simple addition to your classic home. Changing the table top sanding style from Swedish to Traditional can make your piece go from modern to classic in a heartbeat.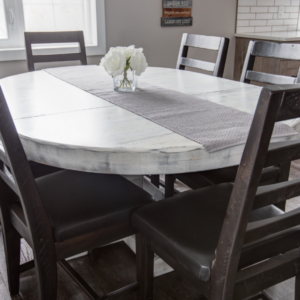 WHAT IS THE SIZE OF YOUR SPACE?
Most dining spaces are long and narrow which suit a rectangle or oval table the best. However, its ok to add a bit of dimension by adding a round table, a narrow hall table or buffet server, a couple of chairs in the corners and a gorgeous piece of art on the wall.
When deciding the size for your dining table, keep in mind how many guests you will want to fit around your table. Typically 24" is the perfect amount space for each guest to sit comfortably. For instance, if you are wanting to fit 8 people around your table, then you would choose a 72" table (3 on each side, one on each end). If you are wanting to add more people to that list, you could also choose a table that allows for a leaf or two to be added. 
Create the space that will fill your life with many memories. Each meal, family announcement and late night chat is part of your story. Allow us to help your write it.